Cat No
LTMCD 2327
Released
2000
Format
CD
Title
Frozen Blood
Comprising 72 minutes of archive studio, radio session and live recordings, both sides of the FAC 32 10-inch, the John Peel and Piccadilly Radio sessions in their entirety (eight tracks), plus seven previously unheard late-period live cuts from 1982. Click on a selected track title below to listen to a 30-second sample (MP3 format)...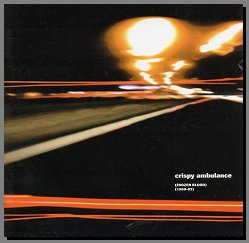 1
Not What I Expected
2
Deaf
3
Come On
4
Drug User - Drug Pusher
5
October 31st
6
Egypt
7
A Sense of Reason
8
Eastern Bloc
9
Concorde Square
10
The Presence
11
Headhunters
12
Frozen Blood
13
Turnbuckle
14
The Gift of Danger
15
Hollow Points
16
The Grind
17
Cult
Tracks 1 and 2 produced by Stewart Pickering; published by Aural Assault Music. Tracks 3 to 6 produced by Tony Wilson; published by BBC Music. Tracks 7 to 10 produced by Stuart James. Tracks 11 to 17 produced by Crispy Ambulance; published by Aural Assault Music. All titles by Crispy Ambulance. Redistribution in any form whatsoever strictly prohibited.
One for acolytes to find true revelry... Witness the driving 'Deaf' or the improvised take on 'Grind'... The cauterising 'Gift of Danger' meanwhile, is as good an artifact of the band's experimental leanings as you'll find. ...as a vibrant snapshot of Manchester's beating post-punk heart, this is stirring stuff. (City Life 06-Dec-2000)
Read the full press release on this CD. Original Piccadilly Radio session master tape resurfaces - Read the news article. Further details and ordering information are available from LTM Recordings.
Return to the recordings index.
---
Return to the home page.
© 1999-2023 Crispy Ambulance. All rights reserved.