Cat No
LTMCD 2317
Released
2000
Format
CD
Title
Accessory After the Fact
A re-mixed, multi-track live recording of the 1999 reunion gig at the Band on the Wall. Click on a selected track title below to listen to a 30-second sample (MP3 format)...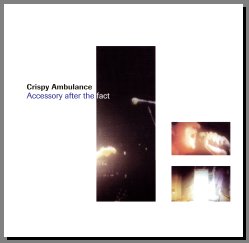 1
Are You Ready?
2
Deaf
3
Come On
4
Federation
5
Travel Time
6
The Presence
7
Lucifer Rising
8
Choral
9
Nightfall Ends the Ceasefire
10
The Plateau Phase
11
United
12
Say Shake
13
Open, Gates of Fire
14
Sound Block
All tracks produced by Crispy Ambulance and Graham Massey. All tracks published by Aural Assault Music, except track 11 by Southern Music. All titles by Crispy Ambulance, except track 11 by Carter/Christopherson/Fanni-Tutti/P-Orridge. Redistribution in any form whatsoever strictly prohibited.
...for followers of cult mancunian new wave group Crispy Ambulance, we have justifiable cause for celebration here. ...Accessory After the Fact swiftly proves why Crispy Ambulance are hailed as such discerning touchstones in the Factory Records firmament. (City Life 31-May-2000)
Read the full press release on this CD and James Nice's review of the gig. Further details and ordering information are available from LTM Recordings.
Return to the recordings index.
---
Return to the home page.
© 1999-2023 Crispy Ambulance. All rights reserved.