Cat No
LTMCD 2302
Released
1990 & 1999
Format
CD
Title
Fin
An extended version of the original vinyl release, with bonus studio tracks taken from earlier singles. Click on a selected track title below to listen to a 30-second sample (MP3 format)...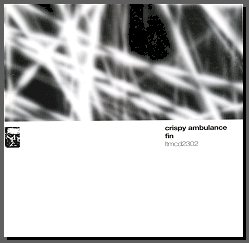 ...this remains an enthralling enough glimpse at a moment in musical history when the DIY ethos of punk gradually gave way to experiments with electronics and song structures, which made the early '80s underground as fertile as any before or since. (NME 08-Jan-2000)
Read the full press release on the reissue of this CD. Further details and ordering information are available from LTM Recordings.
Return to the recordings index.
---
Return to the home page.
© 1999-2023 Crispy Ambulance. All rights reserved.