Cat No
DRL 126
Released
2002
Format
CD
Title
Scissorgun
Studio album of all-new material, recorded in January/February, 2002. Click on a selected track title below to listen to a 30-second sample (MP3 format)...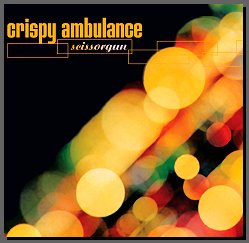 1
Step Up!
2
Loupgarou
3
Metal Grey
4
Re-animator
5
Heatwave
6
Parallax
7
The Drop
8
End Game
9
Even Now in Heaven, there are Angels Carrying Savage Weapons
10
Sound Block
All tracks produced by Graham Massey and Crispy Ambulance. All tracks published by Aural Assault Music. All titles by Crispy Ambulance. Redistribution in any form whatsoever strictly prohibited.
Read the full press release on this CD. Further details and ordering information are available from Darla Records. This is a co-release with LTM Recordings (LTMCD 2329).
Return to the recordings index.
---
Return to the home page.
© 1999-2023 Crispy Ambulance. All rights reserved.