September, 2007
FACTORY NIGHT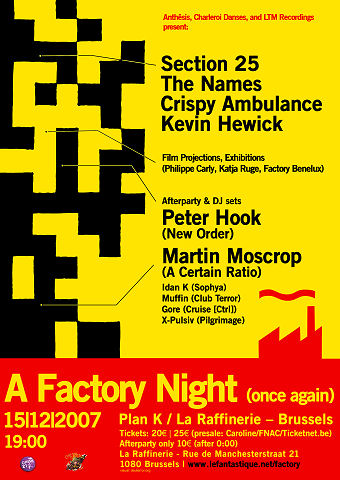 CRISPY AMBULANCE are to appear at a specially arranged Factory Night at Plan K in Brussels, Belgium, on Saturday, 15th December, 2007.
The venue has special significance. In October, 1979, it played host to a two-week-long cultural festival, which opened with appearances by William Burroughs, Brion Gysin, Joy Division and Cabaret Voltaire, as well as screenings of some of Burroughs' and Gysin's short films.
In addition to CRISPY AMBULANCE, the new Factory Night will feature performances by Section 25, The Names and Kevin Hewick. There will also be DJ sets from Peter Hook and Martin Moscrop. For further information, visit www.lefantastique.net/factory.
For the moment this is CRISPY AMBULANCE's only commitment, although other appearances around this time remain a distinct possibility. Further announcements will be made upon confirmation.
Update - Manchester gig now confirmed.
Further update - Souvenir DVD of this event now available.
Return to the news index.
---
Return to the home page.
© 1999-2023 Crispy Ambulance. All rights reserved.