October, 2007
The Grindhouse Saturday Matinée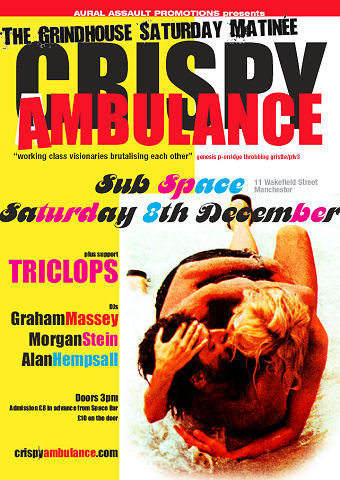 CRISPY AMBULANCE have now committed to an appearance in Manchester. They will appear at Sub Space, the basement club at Space Bar on New Wakefield Street, which is just around the corner from The Revolution Bar on Oxford Road, near to the BBC.
They will be supported by Triclops, a trio from South Manchester, also featuring Hollosphere Lo-Fi Lightshow, plus DJ sets by Graham Massey, Alan Hempsall and Morganstein.
The date is set for Saturday, 8th December, 2007.
Please note, as the name of the event suggests "The Grindhouse Saturday Matinée" will be an afternoon event, therefore the following times will be strictly adhered to (barring any technical issues!)...
Alan Hempsall DJ set 3.30pm
Graham Massey DJ set 4.30pm
Triclops on stage 5.30pm
Crispy Ambulance on stage 6.30pm
Morganstein DJ set to finish.
8.30pm close
Tickets are £8 in advance from Space Bar or £10 on the door.
More details on the venue can be found at
www.purespacecafebar.co.uk.


Return to the news index.
---
Return to the home page.
© 1999-2023 Crispy Ambulance. All rights reserved.