May, 2008
FACTORY NIGHT DVD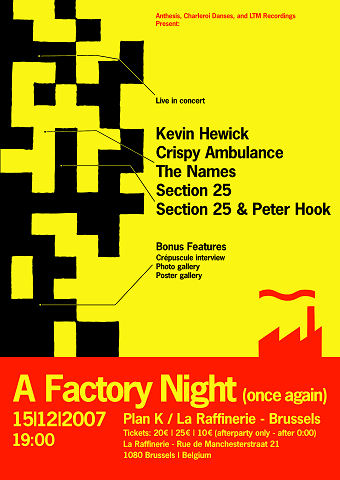 CRISPY AMBULANCE appear alongside fellow Factory classmates Section 25, The Names and Kevin Hewick on a new souvenir DVD from LTM of "A Factory Night (Once Again)", the memorable live event staged at Plan K in Brussels on 15th December, 2007.
The DVD features nine songs from CRISPY AMBULANCE, five from Kevin Hewick, four from The Names, nine from Section 25, plus a special appearance by Peter Hook. Bonus features include poster and photo galleries, plus a rare 1981 television interview with Annik Honoré, exploring the early history of Factory Benelux and Les Disques du Crepuscule.
For further information and how to order, please visit the LTM website.
Return to the news index.
---
Return to the home page.
© 1999-2023 Crispy Ambulance. All rights reserved.