Cat No
FBN 81 CD
Released
2016
Format
CD
Title
Random Textures (+ Compulsion)
Random Textures features all new material written by the band for a series of multi-media events in Manchester during 2015/16 and billed as the Subliminal Impulse Review. Companion disc Compulsion was originally issued in a limited edition of 500 vinyl copies to mark Record Store Day in 2015. This reissue on CD features a couple of bonus tracks. The producer is long-term collaborator Graham Massey of 808 State/Biting Tongues. Click on a selected track title below to listen to a 30-second sample (MP3 format)...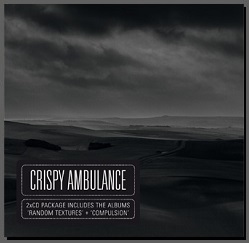 Disc 1 - Random Textures
1
Integra
2
Allegro
3
Prostis
4
Four Bank Man
5
Drifter
6
Baku
7
Peripheral Vision
8
Karpadia
9
Bastion
10
Leviathan
11
Red Texas
Disc 2 - Compulsion
1
Rainforest Ritual
2
Say Shake
3
Nightfall Ends the Ceasefire
4
At the Sounding of the Klaxon
5
WMTP.2
6
Rain Without Clouds
7
Lucifer Rising
8
Open, Gates of Fire
9
Choral
10
Four Line Whip Remix
All tracks produced by Graham Massey. All tracks published by Aural Assault Music. All titles by Crispy Ambulance. Redistribution in any form whatsoever strictly prohibited.
Return to the recordings index.
---
Return to the home page.
© 1999-2023 Crispy Ambulance. All rights reserved.