Cat No
DRL 138
Released
2004
Format
CD
Title
The Powder Blind Dream
Third studio album, recorded in June, 2003, still with the original line-up and again produced by Graham Massey (808 State; Biting Tongues). An old friend returns in the guise of the ARP Odyssey synth, which featured heavily on the band's classic 1982 debut album and gives the new album a sharp retro-modern feel. Click on a selected track title below to listen to a 30-second sample (MP3 format)...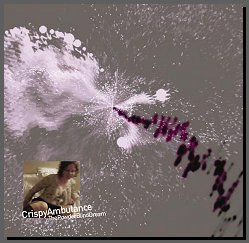 1
Quarter Caste
2
Triphammer
3
Evil Eye
4
Protocol
5
Any Second Now
6
Four Line Whip
7
Chimera
8
Lucifer Rising
9
Bad Self
10
Houses Sinking
11
Pain & Pleasure
All tracks produced by Graham Massey and Crispy Ambulance. All tracks published by Aural Assault Music. All titles by Crispy Ambulance. Redistribution in any form whatsoever strictly prohibited.
Further details and ordering information are available from Darla Records. This is a co-release with LTM Recordings (LTMCD 2372).
Return to the recordings index.
---
Return to the home page.
© 1999-2023 Crispy Ambulance. All rights reserved.