June, 2005
UMBRELLAS IN THE SUN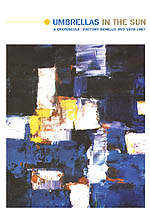 CRISPY AMBULANCE's video of The Presence can now be found on LTM's latest DVD compilation, Umbrellas in the Sun.
The DVD borrows its title from the 1981 video compilation of the same name released by chic Belgian indie label Les Disques du Crepuscule (TWI 099), and features selected clips from that project, as well as clips from A Factory Video (Fact 65), A Factory Complication (FBN 7) and A Factory Outing (Fact 71), plus previously unseen material. Featuring beautiful cover art by Crepuscule design genius Benoit Hennebert, the DVD contains 23 rare clips filmed between 1979 and 1987 and runs for over two hours. The audio soundtrack to all studio clips have been digitally remastered.
The disc is Region 0 (multi-region), NTSC format. The definitive genre document!
For further information, contact LTM.
Return to the news index.
---
Return to the home page.
© 1999-2023 Crispy Ambulance. All rights reserved.