April, 2016
Announcing the fourth multi-media arts workshop, curated by Crispy Ambulance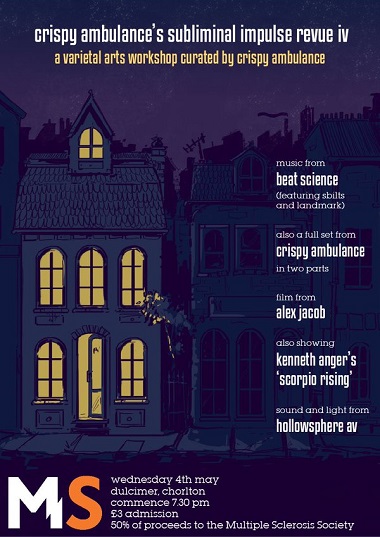 Our fourth Subliminal Revue will take place on 4th May at Dulcimer in M21.
There'll be music from Beat Science, and films from Alex Jacob and Kenneth Anger.
This time around, Crispy Ambulance will perform two 20-minute sets.
Admission is £3.00 with 50% going to the Multiple Sclerosis Society and the rest going to feed and water our guests, who've all kindly donated their talent and time free of charge.
Return to the news index.
---
Return to the home page.
© 1999-2023 Crispy Ambulance. All rights reserved.