September, 2015
Crispy Ambulance to host a second multi-media arts workshop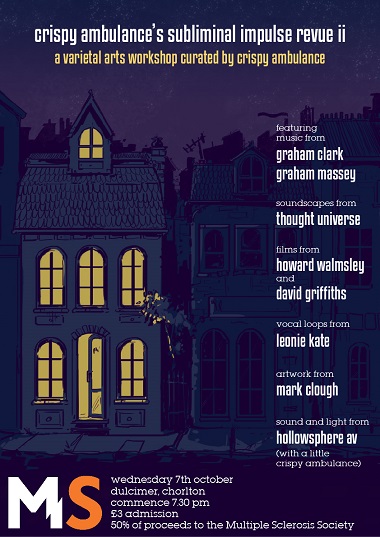 Our next revue is just around the corner...
On 7th October at Dulcimer in M21, Graham Clark (recently of Gong) and Graham Massey (808 State, Toolshed, Massonix, Biting Tongues) will be performing together.
There'll be music from Mark Pilkington (Thought Universe) as well as the very talented Leonie Kate, who will be bringing her unique approach to voice and technology.
We'll also have films from Howard Walmsley and David Griffiths, and it'll all be held together by Hollowsphere AV.
Mark Clough will present sculpture and artwork (expect robots) and Crispy Ambulance will showcase four new instrumental pieces.
Admission is £3.00 with 50% going to the Multiple Sclerosis Society and the rest going to feed and water our guests, who've all kindly donated their talent and time free of charge. We hope to see you there.
Return to the news index.
---
Return to the home page.
© 1999-2023 Crispy Ambulance. All rights reserved.