May, 2015
Crispy Ambulance to host a multi-media arts workshop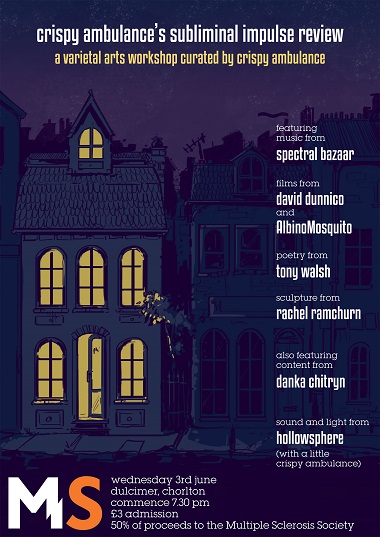 Over the last fifteen months, we have greatly enjoyed our regular rehearsals and subsequent live performances around the UK. So much so that we've decided to continue making music. However, we saw little point in playing our existing material over and over with no goal at the end.
So, we decided it might be a good time to explore the possibilities of going off in a new direction. Then we started to extrapolate this idea and thought we might create a new kind of live event, which would involve working with other local artists across a variety of artistic disciplines, with Crispy Ambulance as the curators.
And so Crispy Ambulance's Subliminal Impulse Review was born.
These events will take place every three months; the first one being at Dulcimer, 567 Wilbraham Road, Chorlton, Manchester M21 0AE, on Wednesday, 3rd June, commencing at 7.30pm. Admission is priced at £3.00, 50% of which will go to The Multiple Sclerosis Society.
At this first event, we will be joined by Spectral Bazaar (music), with films from David Dunnico and AlbinoMosquito, sculpture from Rachel Ramchurn, poetry from Tony Walsh, visual content from Danka Chitryn and light and sound from Hollowsphere.
Crispy Ambulance will make a couple of appearances during the course of the evening, performing new, largely instrumental material.
Return to the news index.
---
Return to the home page.
© 1999-2023 Crispy Ambulance. All rights reserved.