September, 2016
Crispy Ambulance release a new album: Random Textures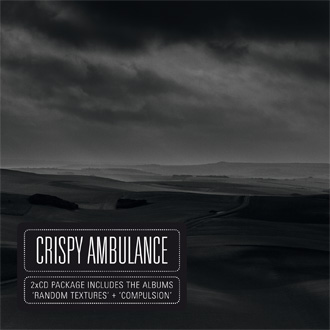 Factory Benelux presents Random Textures, a new instrumental album by cult Manchester group Crispy Ambulance, now issued as a double CD set with the 2015 album Compulsion included as a bonus disc.
Random Textures features material written by the band for a series of multi-media events in Manchester during 2015/16 and billed as the Subliminal Impulse Review. The producer is longterm collaborator Graham Massey of 808 State/Biting Tongues. "After a few years of playing our Factory back catalogue it felt like time for a change," explains frontman Alan Hempsall. "The best way to force a change in our composing methods and move forward was for me to stop singing. We've always liked doing material that could be used as soundtrack music - albeit for fairly disturbing films. Random Textures is the sound of us spooking ourselves in our cellar studio."
Companion disc Compulsion was originally issued in a limited edition of 500 vinyl copies to mark Record Store Day in 2015. In many respects it's the second album Crispy Ambulance might have recorded in 1982 after the release of seminal debut The Plateau Phase, with seven of the ten tracks written and performed live at that time. To these are added Rain Without Clouds, an outtake newly restored from the original multitrack masters, and remixes of Four Line Whip and WMTP.2 by producer-cum fifth member Graham Massey.
Almost uniquely, Crispy Ambulance has retained the same line-up since the group was originally founded in 1978: Alan Hempsall (vocals, keyboards, guitars), Gary Madeley (drums, keyboards), Robert Davenport (guitars, keyboards), Keith Darbyshire (bass, guitars).
The cover image is by Paul Normann.
Random Textures is availabe from all good record stores from 2nd September, or by mail order from Factory Benelux.
Return to the news index.
---
Return to the home page.
© 1999-2023 Crispy Ambulance. All rights reserved.