July, 2003
ROUGH TRADE SHOPS: POST PUNK 01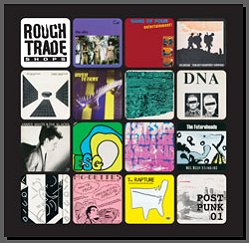 Mute have just released the fifth in their ongoing series of Rough Trade Shops compilations. The new collection is devoted to Post Punk and contains more than forty tracks of the finest music of the genre - old and new - from bands such as The Pop Group, The Rapture, The Flying Lizards, Erase Errata and The Raincoats, brought together on a deluxe two-CD set.
The contribution from CRISPY AMBULANCE is taken from their second single of 1980. Deaf was the band's first release to appear on the Factory label.
The brainchild of Geoff Travis, the first Rough Trade shop opened in February, 1976 in London. The next few years saw the shop expand to form the Rough Trade record label and subsequently Rough Trade Distribution. All have been vital to the development of the independent music scene not just in the UK, but worldwide.
For further information, see the Mute website.
Return to the news index.
---
Return to the home page.
© 1999-2023 Crispy Ambulance. All rights reserved.