September, 2005
CRISPY AMBULANCE NOW ON ITUNES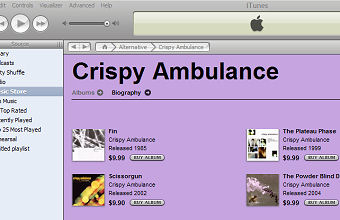 Much of the CRISPY AMBULANCE music catalogue is now available to purchase for your iPod from the iTunes music store, in the "Alternative" section. Most tracks can be purchased individually for $0.99, or an entire album can be downloaded for $9.99.
The iTunes music store also contains album reviews and a biography of the band. See www.apple.com/itunes for more details.
Return to the news index.
---
Return to the home page.
© 1999-2023 Crispy Ambulance. All rights reserved.