August, 2014
Crispy Ambulance at Glaston-Bury 2014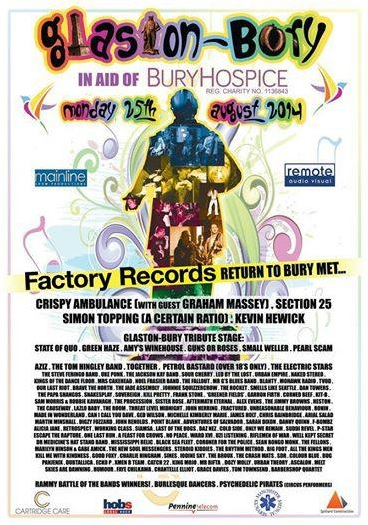 Crispy Ambulance will appear at the Met Theatre (formerly the Derby Hall and scene of the infamous Joy Division riot) at 6pm on Monday, 25th August.
The Met is one of thirteen separate festival venues where over 140 bands and artists will perform this year from noon until 3am.
Crispy Ambulance will be joined on stage for the last three songs by long-time collaborator and honorary fifth Crispy, Graham Massey (of Biting Tongues and 808 State).
The set will be closely followed by fellow Factory band, Section 25, who will be joined on stage by Simon Topping (of A Certain Ratio). A big thank-you also to Kevin Hewick for supporting.
All the festival venues can be accessed with a single wristband costing £6. All the money raised by the festival will be donated to Bury Hospice.
For more information, visit the Glaston-Bury Festival website.
Return to the news index.
---
Return to the home page.
© 1999-2023 Crispy Ambulance. All rights reserved.